Uren schrijven en inleveren
Eenvoudig via browser of app
De pagina die het meest wordt gebruik is het urenregistratie scherm. 99 % van de gebruikers van ClockWise ziet dit scherm, belangrijk dus dat dit goed werkt en eenvoudig is in gebruik! We denken dat we daar in zijn geslaagd bij het maken onze urenregistratie pagina. Ook doordat buiten het standaard matrix scherm er instellingen zijn om de urenregistratie anders te presenteren. Probeer deze instellingen uit of vraag ons u daarbij te helpen
iPhone, Android, Windows phone
Opmerkingen plaatsen
Minimum en maximum aantal uren per week of project
Interface in Engels beschikbaar
Uren schrijven met de app - mobile
Er zijn apps voor iPhone en Android. In deze app kan met meerdere accounts worden ingelogd. Schrijft uw medewerker in ClockWise voor uw eigen urenregistratie maar ook voor een andere (project)organisaties in een ander ClockWise account, dan kunnen deze beide in de app worden ingesteld.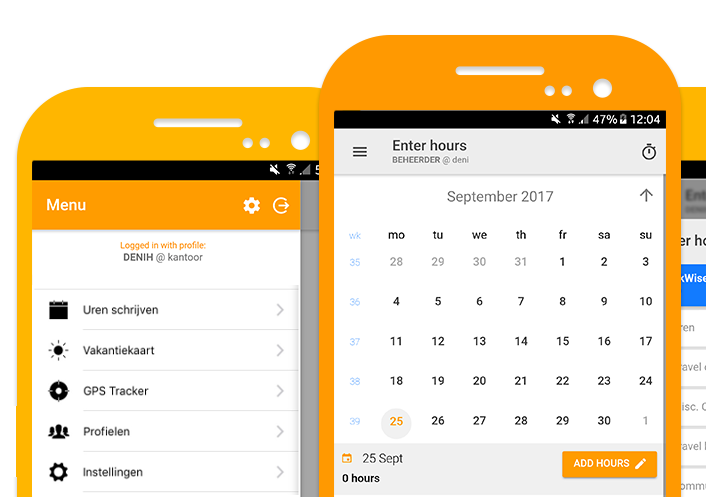 Onkosten en km declareren
Naast uren kunnen ook declarabele en niet declarabele km's worden geschreven. Reiskosten in bedragen of bijvoorbeeld onkosten kunnen bij een geschreven uur worden toegevoegd. U kunt deze gegevens in de rapportages exporteren of bijvoorbeeld in uw loonexport meenemen.