Reports
The more you fill in, the more you can get from ClockWise. But everything is optional, a project name and employee is enough to submit hours.
Direct insight via the reports in ClockWise or the dashboard, opening reports in Excel or retrieving the data via a direct link in PowerBI.
View your budget
Work in progress position
Occupation per week or month
XML, csv, excel, json
Open in PowerBI - webservices light
Planning or budget per project.
Insert the budgeted hours per project, part and/or employee. You see directly if you stay within this budget. If an employee is exceeding beyond the budget, then this will be shown in red. By showing the reports as price rates, a different weight can be given to the hours.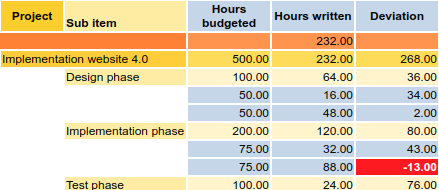 At projects, you also can insert a start and end date. This is the easiest way of planning in ClockWise.
If per employee a budget is known, you can also see reports of the occupation of the employee in the future.
With help from Clockwise we can not only very precisely look in the past, but also take a look at the future
Robert Groutar - Sodexo


Above occupance per employee per week is also available per month and can also be split out per project.
When price rates are inserted, the average revenue per week or month can also be calculated.
Productiviteit
What is the % declarable value of your employees? In the productivity report you can see the total of written hours, and the amount and percentage thereof that is productive or billable. The productivity can be shown per month, quarter year or year.
Hour reports and hour dump
The hour reports show by default all individual hour mutations. This way, you can see on detail level what happended. You can see here the remarks, reveal the price rate, see who approved the hours and see if an hour is billed already. Every information related to an hour can be found back in detail. Such reports have been retrieved and downloaded as hour dump to be edited further.
Moreover, you can view the hours summed up per customer, employee or period.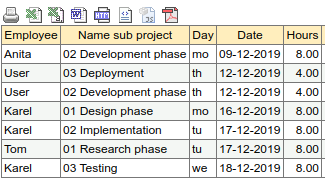 Dashboard /dossiers
On the 'File' pages you can find the information organised per customer, project and employee. For instance, an employee file contains the written hours of the past months, the productivity and the holiday and sickness hours. At the customers files the revenue per customer can be viewed.
Excel, XML, csv
All reports can be opened directly in excel, csv, xml, json and Word formats.
Save filters and open them with PowerBI or Excel
All filter settings can be saved such that more complex settings or reports you make periodically are easy to create again. You can also call these settings from excel or PowerBI. Use 'data from web' to create a direct link from PowerBI to ClockWise. Look at the connections for a more detailled description of the steps.