Finance
Being able to see hours that can be billed at any time you want, generate multiple invoices at once and sending them per e-amil to yours customers. This is all possible with the billing module of ClockWise
You can use your comapnies invoice layout!
Sending hour invoices digitally with ClockWise saves us so mutch time!
Christine de Wit - Bedrijfsartsengroep

Billing
Invoice in company layout
Fixed fees and periodically
Send UBL invoices
Reversed Billing
Twinfield, Snelstart and Exact online
Financial reports
Generating fixed fee, approved hours or subscription fees invoices, all are possible with the finance module.
Enter contacts at your customers and send your invoices automatically to them, in PDF and or UBL format.
When using the mail check your spf settings to include the clockwise mailserver. Check our information page about e-mailsettings.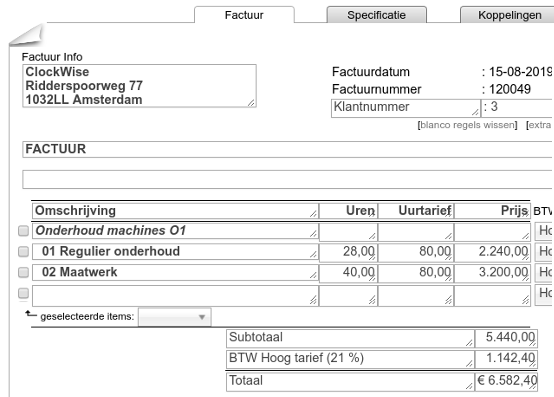 Reversed Billing
When you work with hired personal than you can use our reversed billing. Reversed billing is also used in accounts where some companies work together at one project. You can send reverse bills to the colaberating project partners. You can read more about this at case 1 on our flexible structure and implemantation page.
Overtime tarrifs
Tariffs in ClockWise can be changed per date. The hostory of tariffs is saved. Its also possible to use overtime tarifs.
Tarifs can differ per project per employee. Whe have tarif cards when a tarif is activity or employee dependend. Use a card and you only have to apply changes to the tarifcard. Using a tarif card also offers the advantage of saterday and sunday tarifs.
Reporting
Direct inzicht in uw omzet, met totalen per maand, per kwartaal en per jaar dat heeft u in de rapportage Omzet. Zo kunt u de trend goed bijhouden zonder direct de details in te gaan.
Ook is in veel rapportages ook een financiele weergave beschikbaar. Zo kunt u bijhouden of u bijvoorbeeld over uw budget heen dreigt te gaan met de Projecten rapportage door deze weer te geven in weergave met begroot bedrag ipv uren.
In de rapportage Financieel komt alle financiele informatie bij elkaar.
U kunt uw onderhanden werk positie bekijken, de marge tussen in en verkoop maar ook bijvoorbeeld als u maandelijks vaste bedragen factureert wat de omzet wordt van de rest van het jaar.
Boekhoudkoppelingen
Gemaakte verkoop en inkoop facturen kunnen met de administratie connector worden overgezet naar de pakketten, Twinfield, Snelstart en Exact online waar we een koppeling mee hebben.
Hiervoor kunt u grootboekrekeningen in ClockWise invoeren en bij klanten of projecten selecteren.
Kijk ook bij koppelingen voor meer informatie over de specifieke eigenschappen van iedere koppeling.