PowerBI connection
Visualize your ClockWise data with PowerBI
With the Data from web option of PowerBI you can get live hours data from ClockWise.
Your dashboard can be alwasy up to date! And you don't have to be an expert to implement this connection!
This is just to easy!

Realtime date
Easy to implement with data from web
Webservices light
Available for all users
In ClockWise you can save filter settings, for exampla a search for all written hours of a specific department of last month .
Data of a saved report can be loaded in PowerBI/
Example in 4 steps
Save a report in ClockWise with the filter settings you like. (Check the helpfiles for all the options)
There is a static url available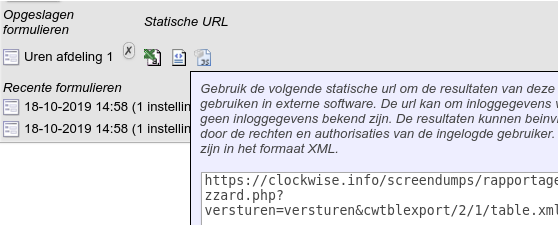 Go to the saved static url and copy it by clicking the csv icon.
Go to PowerBI and choose Get data -> From web
paste the url and load the data.

The connection is established.
This also works for excell, if you want to make more enhanced reports or use large amounts of data to load to a datawarehouse we advise you to use are RESTful API.